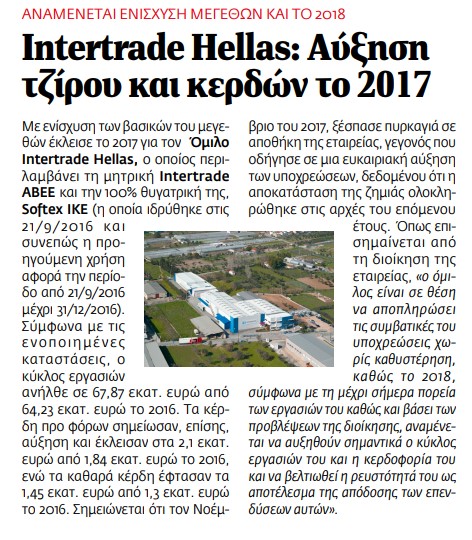 Increase in turnover and profits in 2017
With the strengthening of its basic sizes, 2017 closed for the Intertrade Hellas Group, which includes the company Intertrade ABEE and its 100% subsidiary, Softex IKE (which was founded on 9/21/2016 and therefore the previous year concerns the period from 21/9/2016 until 31/12/2016).
Increase in turnover and profits
According to the consolidated statements, the turnover amounted to 67.87 million euros from 64.23 million euros in 2016.
Profits before taxes also increased and closed at 2.1 million euros from 1.84 million euros in 2016, while net profits reached 1.45 million euros from 1.3 million euros in 2016.
It is noted that in November 2017, a fire broke out in an Intertrade warehouse, which led to an occasional increase in liabilities, as the repair of the damage was completed early next year.
As pointed out by the management of the company, "the group is able to repay its contractual obligations without delay, as in 2018, according to the course of its operations to date and based on the forecasts of management, the cycle is expected to increase significantly operations and profitability and to improve its liquidity as a result of the return on these investments "